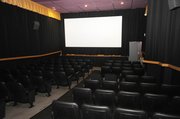 Inquiries
For information about a local group's efforts to purchase and renovate the building, call developer Jim Cook at 970-870-8800.
Steamboat Springs — A group of local movers and shakers is forming a nonprofit organization with the intent of purchasing the Chief Plaza Theater and renovating it into a single-stage performing arts venue downtown.
Developer Jim Cook; Jon Sanders, of Ski Town Com­mercial Real Estate; Tracy Barnett and Towny Anderson, of Mainstreet Steamboat Springs; Valerie Stafford, of the Steamboat Dance Theatre; and Bill Rangitsch, of Steamboat Architectural Group, met Tues­day morning to talk about how to move forward with their plans. Sanders is the local representative of Michael Barry, who has owned the Chief Plaza Theater in the 800 block of Lincoln Avenue since 1970. No sale of the building has been finalized, and Sanders said Monday he is "in detailed conversations with some other folks" about the location, which Barry placed on the market late last year.
But the group hopes to leverage a mix of historical preservation grants, tax-exempt financing for nonprofit groups, local fundraising efforts and other financial ideas into a purchase and renovation of the theater. Cook said the venue could host local, regional and national acts and be a "cultural anchor for downtown," especially with the Steamboat Art Museum next door.
The group's hurdles are as large as its aspirations. Rangitsch said the effort could have a total price tag of about $5 million, largely because the aging Chief Plaza would need large-scale renovations including the removal of interior walls and likely a new roof.

"Band-Aids don't really help on a project like this," Rangitsch said.
On Tuesday morning in his office in the Chieftain Building on Fourth Street, Rangitsch displayed renovation plans that include about 370 removable seats on the main level, a 40-foot-deep stage, a floor that could be flattened or sloped according to the event, an upper mezzanine with about 100 more seats, two bar areas, a ticketing office, green room space, an upper-level deck overlooking Lincoln Avenue, and more.
Rangitsch said removing the seats on the main level could allow for a capacity of about 750 people. Stafford said local groups and events such as Literary Sojourn, Pirate Theatre, Bust of Steamboat and Steamboat Dance Theatre potentially could use the venue, which also could host anything from seminars and conferences to wedding receptions.
"There's a lot of need right here — not to mention what you could bring in from outside," Stafford said.

Sanders has said the original single-stage theater in the Chief Plaza building, once called the Village Theater, held about 600 people.
Conversations about creating a new performing arts venue in Steamboat accelerated in spring 2008, when Steamboat Mountain Theater closed before the demolition of Ski Time Square.
Current local performing arts venues include Strings Music Pavilion, the Steamboat Springs High School auditorium and, on a smaller scale, the Depot Art Center. The Ghost Ranch Saloon opened last year and provides another mid-sized downtown venue for live music. Other bars and restaurants host musicians, as well.
Strings Music Festival Ex­­ecutive Director Kay Clagett said she didn't want to comment Tuesday about the idea of a downtown performing arts venue because she did not know enough about the group's proposal. David Arthur, entertainment director for the Ghost Ranch, said "competition in the workplace is what makes us all do our job better."
"Ultimately, I think that Steamboat as a city can only benefit from having multiple places to go see shows," Arthur said. "Personally speaking, all I can do is do my job and try to bring the best live entertainment to Steamboat. … It might be competition, I don't know — it depends on what they're trying to do. We'll see what happens."
The Chief Plaza building includes the four-plex movie theater and two retail stores — Summit Shades and Blossom, which sells women's clothing and gift items. The two stores total 1,480 square feet, and the movie theater is 5,520 square feet, Sanders said.
Sanders said in November that Carmike Cinemas had about three years left on its lease. Summit Shades had nearly four years left and Blossom had about one year, he said at that time.
The group emphasized that the goal of renovating the Chief Plaza would not be to compete with Strings or other venues, but rather to meet a community need downtown.
"It would build more of a presence for the arts in town," Stafford said.
Cook said the group's next steps include solidifying revenue streams and operating costs and drafting a contract for the purchase. He said the group already has discussed the idea with city planning staff and, if all the variables fall into place, could present plans to the city by Sept. 1.