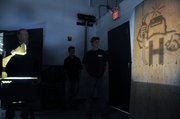 Hayden — In a room plastered with fresh architectural drawings, Hayden High School drafting teacher Mike Beurskens tells his students that there still are some places they cannot use a computer effectively.
"Sometimes, you've literally got to put pens to paper, especially when you're surrounded by contractors, piles of dirt and backhoes," Beurskens said as he recalled the times he had to modify blueprints on the hood of a car as a civil engineer in Steamboat. "When I was in college, I had to design buildings all by hand."
On Wednesday, Beurskens' introductory drafting course at Hayden High School was devoid of keystrokes as students Cole Miller, Mark Doolin and Jordon Ferrier finished drafting plans by hand for a possible expansion of Hayden's press box and fitness center.
The students don't know whether the plans will spring from their papers, but in two weeks, they're guaranteed to help start construction on a steel tower when a new structural engineering class launches in Hayden.
Beurskens said the new course is another opportunity for the students to get a physical sense of the industry they hope to step into.
And when they've mastered using tracing paper to alter their building designs in the first quarter of their drafting class at the Babson-Carpenter Career and Technical Education Center, they'll move into a computer lab to use architectural drafting software their parents were only hearing whispers of in college.
Building up
Funded by a $26,000 innovation grant from the Steamboat Springs Education Fund Board, Hayden's new structural engineering course will give junior and senior students who come to the Technical Education Center an opportunity to design, weld and secure the funding needed to build a steel structure that could be used as a video recording platform at Hayden athletic events.
Course instructor and Hayden Career and Technology Director Kevin Kleckler told the group of prospective students Wednesday that he envisions their final exam will be taken on the steel beams of the structure 20 feet above the ground.
"When students leave this program, I imagine they'll be more ready to step right into a career," Kleckler said. "They'll learn about civil engineering and how to safely navigate a real construction site."
According to the course outline, students will learn about Occupational Safety and Health Administration guidelines, geotechnical engineering, mechanical and computer-aided drafting and crane lifting, among other topics.
Kleckler said he is busy enrolling some of the county's top construction minds to help teach the class, which will meet once per month and dole out Colorado Northwestern Community College credit to students.
About 40 people, including building professionals ranging from Fox Construction Project Manager Sarah Fox to Steamboat architect Bill Rangitsch as well as administrators from all Routt County school districts, toured the Technical Education Center on Wednesday with Kleckler, who was eager to show how the center has grown in the past four years.
"All the pieces we need to grow and expand our programs are here," he said as he showed off a new AutoCAD computer lab, which was secured by a $50,000 grant from Colorado's El Pomar Foundation. "Now we're just ready for more students."
The Technical Education Center houses the district's already popular automotive technician and welding programs, and Kleckler thinks there will be more cooperation among those programs in the coming years.
A countywide project
Although only a small number of students from South Routt and Steamboat attend classes at Hayden's Technical Education Center, Kleckler said the new structural engineering course will be attended by at least eight students from each Routt County school district.
Wednesday's informational meeting was attended by South Routt School District Superintendent Scott Mader and a counselor from the Steamboat Springs School District.
Kleckler also hopes the launch of the class will bring more students in the county to the district's other regular classes, such as the welding and automotive technician programs.
"The huge obstacle is transportation," he said. "And we have other obstacles in the form of schedules and finances between the school districts. What I envision is us working together as districts to get over the hurdle of losing money from students who attend a class here. I think this program is a step toward that."
Transportation to the new course will be provided by the Hayden School District.
And as the building prepares to turn 4 years old, Kleckler said it will only continue to improve its programming and resources for students.
"Of course, it hasn't come as quickly as I would have liked," he said about the equipment that's been added to the building this year. "But what I've learned in education is that in order for something to be sustainable, it takes time and patience."
— To reach Scott Franz, call 970-871-4210 or email scottfranz@SteamboatToday.com